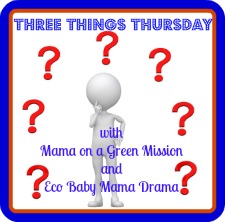 This week April from
Mama on a Green Mission
and Bri from
Eco Baby Mama Drama
are starting a new weekly feature:
Three Things Thursday
.
Each week they will post three questions and give up to three answers for each question to let you learn more about them... and then we can join along and post our answers and link up with them.
So here are my questions and answers:
Favorite TV Shows
:
?
?
?
Am I a total loser if I don't have any? I seriously do not watch TV. I hang out with Mike in the man cave at the end of the night with my laptop and do stuff online and so I 'watch' whatever he is watching. But I don't actually love any of it and don't really follow.
Any Piercings
:
5 in each ear.
Belly button.
I am dying to get a tiny one in my nose, but probably never would do it.
Places I Want to Visit
:
Sanibel, FL. We are going this summer and I can't wait!
Islands. I want to visit lots of islands. I don't care where.
Italy. My ancestors are Italian and I'd love to go.
There ya have it, there are my answers... now it's your turn!
Answer the questions and link up!