Welcome to Week 51
of
Friendly Debates With The Danielle's!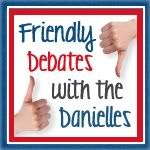 Wanna Play?
There will be a question each week that will require you to decide where you stand regarding that topic, then of course share those thoughts with the world!
RULES:
1.) Please follow the hosts via Facebook:
Danielle B.
&
Danielle H.
2.) If you link up please leave a comment so we can visit you.
3.) This is a meme, so you MUST answer the question in a blog post.
4.) Link directly to the blog post in which you answer the question.
5.) Grab the button and place either in your post or on your blog.
(You can find the html code in my right side bar).
6.) At the end of your post leave a suggestion for the following weeks topic.
If we choose your suggestion you will be mentioned and linked to in the following weeks post.
AND THE MOST IMPORTANT RULE:
Please respect each others opinions. This means no bashing of other bloggers in comments on their posts. Kind words and genuine questions are encouraged. If you strongly disagree with someone else the place to address your view point is in a post on your own blog. If we find that you have blatantly disregarded this you will be removed from the linky.
THIS WEEKS TOPIC
Kissing Your Children on the Lips?
Yay or Nay?
What do YOU say?
MY OPINION?
Yay!
Well… up to a certain age anyway.
I kiss my babies and toddlers on the lips and I honestly can not remember when I stopped. It's kind of in the same category as kissing their feet. I LOVE their feet and kiss them like crazy up to a certain age… but again, I can not remember what age that is. Gracie is 3.5 years old and I am still kissing her on the lips and kissing her feet :)
Okay well that was a bit off topic. But you get the point. I do kiss my children on the lips and I've even been known to tease them by pretending to kiss them, but then I would suck their bottom lip and make a kissy noise. It's hilarious! And fun!
But no, I do not kiss my 12, 13 or 15 year olds on the lips. That's just gross haha.
How could you NOT want to kiss that fat lip?!? And look at Gracie's lips… I just wanna kiss her!
What do you think?
Do you kiss your children on the lips or do you think that's gross?
What do you think about kissing your children on the lips?
Yay or Nay… What do YOU say?
Write a blog post and link up!
If you are not a blogger… we still love you! Let us know what you think in a comment below! We'd LOVE to here from you!!
If you get a chance…
Drop in to some of my other Debate Posts:
Tweens or Teens Shopping at Victoria's Secret
Snacking on food in the store before you pay
Using Anatomically Correct Terms with Children
Privacy Between Couples Regarding Technology
Do you use real names or nicknames on your blog?
Security Blanket/Object Attachment
Baby Showers for Second Baby and Beyond
Bikinis for Toddlers, Tweens and Teens
Do You Return Your Shopping Cart to the Corral?
Extended Rear Facing Car Seats
Banning infants and toddlers from restaurants
Re-Gifting or Returning Gifts: Rude?
Strict Schedules with Children?