Welcome to Week 48
of
Friendly Debates With The Danielle's!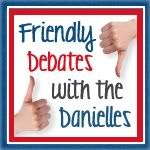 Wanna Play?
There will be a question each week that will require you to decide where you stand regarding that topic, then of course share those thoughts with the world!
RULES:
1.) Please follow the hosts via Facebook:
Danielle B.
&
Danielle H.
2.) If you link up please leave a comment so we can visit you.
3.) This is a meme, so you MUST answer the question in a blog post.
4.) Link directly to the blog post in which you answer the question.
5.) Grab the button and place either in your post or on your blog.
(You can find the html code in my right side bar).
6.) At the end of your post leave a suggestion for the following weeks topic.
If we choose your suggestion you will be mentioned and linked to in the following weeks post.
AND THE MOST IMPORTANT RULE:
Please respect each others opinions. This means no bashing of other bloggers in comments on their posts. Kind words and genuine questions are encouraged. If you strongly disagree with someone else the place to address your view point is in a post on your own blog. If we find that you have blatantly disregarded this you will be removed from the linky.
THIS WEEKS TOPIC
Gender Specific Toys?
Yay or Nay?
What do YOU say?
MY OPINION?
Maybe. Not Sure.
I'm not sure.
I really do not have a strong opinion on this topic and I also do not think there is anything wrong either way, regardless of what you believe.
I probably would not purposely push a 'girl toy' on a boy, but if he wanted a doll I would probably let him have it. My girls always played with trucks and cars which you would normally categorize as 'boy toys'. Gracie has 2 huge Tonka trucks and she loves them! I don't see a problem with this at all. I know that little boys love walking around the house in Mommy's high heels and I don't see an issue with that either. We have a play vacuum and my daycare boy love playing with it. Again, I do not see any issue with it.
Speaking of my daycare boy… he is going to be 3 years old next month and he knows that blue and green are boy colors and pink is a girls color. His mom showed me, if you ask him if he like pink, he says 'nooo… pink is for girls!'. I kinda think it's cute. I don't really think it's doing any harm teaching him that.

What do you think?
What do you think about Gender Specific Toys?
Yay or Nay… What do YOU say?
Write a blog post and link up!
If you are not a blogger… we still love you! Let us know what you think in a comment below! We'd LOVE to here from you!!
If you get a chance…
Drop in to some of my other Debate Posts:
Tweens or Teens Shopping at Victoria's Secret
Snacking on food in the store before you pay
Using Anatomically Correct Terms with Children
Privacy Between Couples Regarding Technology
Do you use real names or nicknames on your blog?
Security Blanket/Object Attachment
Baby Showers for Second Baby and Beyond
Bikinis for Toddlers, Tweens and Teens
Do You Return Your Shopping Cart to the Corral?
Extended Rear Facing Car Seats
Banning infants and toddlers from restaurants
Re-Gifting or Returning Gifts: Rude?
Strict Schedules with Children?