Welcome to Week 42
of
Friendly Debates With The Danielle's!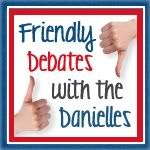 Wanna Play?
There will be a question each week that will require you to decide where you stand regarding that topic, then of course share those thoughts with the world!
THIS WEEKS TOPIC
Donated Breast Milk: Would you donate? Would you use donated milk from another mama?
Yay or Nay?
What do YOU say?
MY OPINION?
I Say, Yay.
I think.
I would most definitely donate –
for sure
!
But as for using donated breast milk… I probably would use it if I knew the person. It would be hard for me to use another woman's breast milk if I was not 1000% positive that she was taking good care of herself. That is something that would be very hard for me… all of the 'what if's' go through my mind.
You just never know.
What do you think about donated breast milk? Would you donate your breast milk? Would you use donated breast milk for your babyYay or Nay? What do YOU say?
Write a blog post and link up!
If you are not a blogger… we still love you! Let us know what you think in a comment below! We'd LOVE to here from you!!
If you get a chance…
Drop in to some of my other Debate Posts:
Using Anatomically Correct Terms with Children
Privacy Between Couples Regarding Technology
Do you use real names or nicknames on your blog?
Security Blanket/Object Attachment
Baby Showers for Second Baby and Beyond
Bikinis for Toddlers, Tweens and Teens
Do You Return Your Shopping Cart to the Corral?
Extended Rear Facing Car Seats
Banning infants and toddlers from restaurants
Re-Gifting or Returning Gifts: Rude?
Strict Schedules with Children?